Here at C&J Landscapes we have a wealth of knowledge and some great Garden Decking Ideas when it comes to providing inspiration for your Garden Decking project.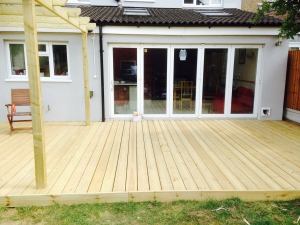 Garden decking is a great way to create a space for hanging out with friends and family and to encourage everyone to get outside. Read on to discover some great, modern garden decking ideas that will totally transform your garden. Whether you are looking to repair and remodel an old deck, or if you want inspirational decking ideas for a new build, we have you covered!
What Type of Decking Is Right for Me?
If you want to lay decking in your garden, you might be overwhelmed by the number of options that are out there. Before you can delve into decking ideas, you need to work out what type of decking will work in your space. So, which option is right for you? You should take into consideration your budget, the type of garden you have, and what you intend to use your deck for.
Ground Level Decking
Ground level decking is incredibly popular in households across the UK. It's not hard to see why as ground level decking is usually very easy to install. Ground level decking is also often the cheapest type of decking to install due to its popularity.
For more information about our Garden Decking Ideas and to arrange a visit and quote please email us at info@cj-landscapes.co.uk or call 01279 418 187 or 07751 164 932.
Multi-Level Decking
Multi-level decking looks very impressive and it can really improve the overall look of your garden. Multi-level decking tends to cover a large area, so you can customise the area to fit your needs. If your garden is sloped but you still want to install decking, multi-level decking will help to solve this problem.
Whatever type of deck you choose, we have plenty of decking ideas for you. Read on to find out how you can make the most of your garden decking.
Decking Ideas for a Sloped Garden
Many people wrongly assume that decking won't work in a sloped garden. Of course, if you want to learn how to lay decking yourself, a sloped garden will be trickier than a flat garden. However, if you are ready to take on the challenge, raised decking is a great option for you.
So, what are the pros and cons of laying raised garden decking?
Raised decking can provide an attractive focal point for your garden. If you want to sit in your garden and enjoy the views, a raised deck is an ideal choice.
Raised decking is trickier to install. This means that the cost of a raised deck can sometimes be far greater than ground level decking. If you are new to D.I.Y., this won't be a project that you can tackle on your own.
Garden Decking Ideas (Lighting)
Lighting is one of the key areas where you can get really creative with your deck. The right lights transform your garden decking into a space that looks just as great at night as it does in the day. Decking lighting allows you to entertain guests or just chill out in your garden once the sun goes down.
Lights that are embedded into the wood are a very popular way to add light to a new deck. There are several key benefits to adding lights into your deck. Firstly, this lighting tends to be safe if you have small children, as it avoids using visible wires. Secondly, the bulbs don't tend to be too bright, so the lighting will subtly compliment your deck and it won't be intrusively bright.
Even better, decking lights tend to be fairly cheap. So, once your new deck is in place, adding embedded lights won't break the bank, but it will make your new build look stylish. Lights also make your deck far more versatile, because you will be able to sit out on in during the day or night.
For more information about our Garden Decking Ideas and to arrange a visit and quote please email us at info@cj-landscapes.co.uk or call 01279 418 187 or 07751 164 932.
How to Make a Bright Decking Paint Work
If you are more interested in unique decking ideas, adding a colourful decking stain could be right for you.
Sometimes adding colour to furniture can make people nervous. It's understandable that you might want to avoid garish colours that will fade considerably over time. Your deck is likely to receive heavy footfall, so you might want to consider that when you are choosing your colourful decking stain. Make sure that you apply a couple of coats of paint to make sure that your deck stays fresh.
Colour makes a huge impact in a garden. A brighter deck looks especially striking in the sunny summer months. If you want something bright but still fairly neutral, you might want to choose a shade such as light blue.
Bear in mind that paint will look very difficult on different types of wood. So, do a patch test on a piece of the same wood before you cover your new deck with paint. If you are looking for colour inspiration, consider the colours that are already in the garden. If you have previously planted flowers in your garden, you can compliment them by matching the colour of the deck to your plants.
Whatever shade you go for, you need to make sure you are using appropriate decking paint. Make sure that you choose a paint that can withstand moisture and offers your wood some protection. Opt for a garden paint to make sure that you get great results that last a long time.
Curved and Circular Decking Styles
Standard square or rectangular decks are classic shapes that won't go out of style. However, if you are investing in new garden decking, you might want to raise your game. Often raised decking and multi-level decking has in the past provided gardens with an interesting focal point.
However, ground level decking tends to be quite traditional. But now, even with ground level decking, people are increasingly interested in experimenting with shape.
Curved decking is also a good choice if you want to avoid harsh lines and if you want to create a gradual border between different areas of your garden. Be warned, circular decking and curved decking is harder to install than normal ground level decking. It also requires more skill to install. So, just be aware that if you choose circular or differently shaped decking, you will need to factor in the extra cost into your budget.
For more information about our Garden Decking Ideas and to arrange a visit and quote please email us at info@cj-landscapes.co.uk or call 01279 418 187 or 07751 164 932
Make Your Deck Look More Natural with Plants and Foliage
It can be fun to build brightly coloured, eye-catching garden decking. However, sometimes you might want to help your decking to blend in, especially if it is in a small space. One of the easiest ways of doing this is to add plants and foliage around the perimeter of your decked area. This can help your decking to look softer and more natural.
Plants can be helpful when you are adding decking to a small garden, and they can also improve the appearance of decking in a large space. Adding potted plants will help you to break up large sections of decking. You can add paving and gravel to keep the plants in place, which will add a new colour and texture to your decked area.
How to Add Shade and Coverage to Your Garden Decking
In the UK, it may seem incredibly optimistic to consider adding shade to your garden decking. However, decking can be a sun trap. You may be surprised by how sunny it gets when you are relaxing on your new decking in the warmer months.
If you are looking for practicality and versatility, adding a retractable awning to your garden decking is a great idea. However, retractable awnings can be costly, as they are usually cut to your specific requirements. They are substantial structures, so you will need to hire an awning installation specialist to install it for you. Although it is a bit more expensive, the results tend to be worth the price.
There are cheaper options available if you are on a budget but you still want shade. Canopies offer a good mid-range solution. They will still shelter you well from the sun but they are cheaper than an awning. However, the structure is usually immovable.
We have offices in Walthamstow, East London and Harlow, Essex. We are Garden Decking Ideas specialists in Walthamstow, Leytonstone, Bow, Bethnal Green, Shoreditch, Whitechapel, Hackney, Docklands, East Ham, Stratford, Forest Gate, Clapton,  Wanstead, Chingford, Loughton, Woodford, Epping, Theydon Bois, Buckhurst Hill, Chigwell and other surrounding towns in London and Essex.
For more information about our Garden Decking Ideas and to arrange a visit and quote please email us at info@cj-landscapes.co.uk or call 01279 418 187 or 07751 164 932.
Garden Decking Ideas